Chris and Nancy Brown embrace while looking over the remains of their burned residence after the Camp fire tore through the region in Paradise, California. Photograph: Josh Edelson/AFP/Getty Images
Hundreds are missing, thousands are displaced, and the danger from fires in the state's north and south is 'far from over'
The statewide death toll in California's wildfires reached 50 late Tuesday, as authorities reported six more fatalities in the Camp fire in the north of the state.
The deaths from the Camp fire, the deadliest wildfire in the state's history, have increased to 48, the Butte County sheriff, Kory Hone, said.
Two people have also died in the Woolsey fire, a major blaze around Los Angeles.
Authorities in northern
California
have ramped up the search for more victims buried in rubble left by the blaze that incinerated the town of Paradise.
Authorities have brought in cadaver dogs, mobile morgue units, rapid DNA identification units and 100 national guard troops.
More than 200 people remain missing, and local law enforcement plan to release a list of those individuals in the coming days.
Camp fire
Officials said earlier Tuesday that the fire had grown to 195 square miles.
Firefighters report that the fire is 35% contained and NWS meteorologist Aviva Braun said early Tuesday that the high winds that helped spread the blaze have begun to diminish.
Air quality in the area, which has been hazardous in recent days, is expected to worsen as light winds cause smoke to settle, Braun said.
The fire is still actively burning, and more than 5,000 fire personnel are on the scene from across the country. They continue to battle flames including in the area north of Magalia near Stirling City. With increased visibility, planes were able to deliver retardant as crews on the ground worked in steep inaccessible terrain, Cal Fire authorities said.
More than 7,600 structures have been destroyed, the vast majority of those are homes in Paradise, a Sierra foothill town of 27,000 about 180 miles north of San Francisco.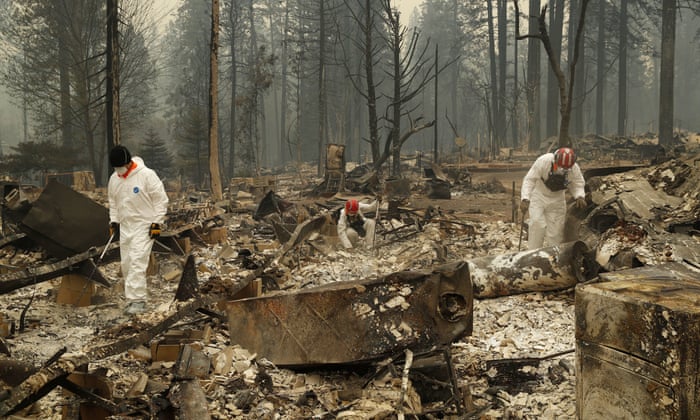 Many of the dead have been found badly burned in cars and residences.
Areas are being searched closely but there is an "unfortunate possibility" that once residents are allowed to return, they may encounter remains authorities missed, Sheriff Honea said.
Authorities have arrested six people, all of whom were suspected of looting.
Honea said: "I have warned people time and time again that if you're in these evacuation areas and you shouldn't be and you're violating the law or taking advantage of these poor people who are displaced, we are going to stop you, we are going to investigate and we're going to take you to jail."
The sheriff also announced that the Butte county district attorney is asking evacuees to report any price gouging they encounter. "I think price gougers are probably in the same category as looters," Honea said.
Some 52,000 remain displaced by the fire.
To date, three of the dead have been identified: Ernest Foss of Paradise, 65, Jesus Hernandez of Concow, 48, and Carl Wiley of Magalia, 77.
More details emerged on Tuesday about the victims.
Ernest Foss was a musician who gave lessons out of his home when he lived in San Francisco, where an amplifier that ran the length of a wall served as the family's living room couch, the Associated Press reported.
Carl Wiley refurbished tires for Michelin. Jesus Fernandez was known as "Zeus".
Foss, 63, moved to Paradise eight years ago because the high cost of living pushed him out of the San Francisco Bay Area, according to his daughter, Angela Loo. He had swollen limbs and couldn't walk. He had also been on oxygen.
Loo told KTVU-TV in Oakland that her father taught music out of their home in San Francisco and turned the living room into a studio. "I love that he shared his gift of music with me and so many others during his lifetime," she said. "He would want to be remembered for being a San Franciscan through and through."
Woolsey fire
In a press conference on Tuesday, fire and law enforcement officials from LA and Ventura counties said the danger over the giant Woolsey Fire, which has scorched more than 120 square miles since it erupted last Thursday, was "far from over".
With 35% containment after the difficult six-day firefight – described by firefighters in southern California as the most challenging of their careers – the blaze has already burned across 96,314 acres, with more dry winds expected and brush-covered canyons still at risk of fueling the flames to the west.
Saying that this fire had already surpassed the most destructive fire in the county's history going back over 100 years, the Los Angeles county fire chief, Daryl Osby, told reporters that more than 435 homes had already been destroyed and that number was expected to rise. Reflecting on his three-decade career, he likened the magnitude of the destruction to Hurricane Katrina but emphasized that fire crews from across the state and country had had an impact.
"We are still concerned about the safety of our citizens," he said, saying that protecting life was their main objective, followed by saving structures and containing and extinguishing the fire.
The Cal Fire deputy Nick Schuler said 500 new fires had burned more than 225,000 acres across the state and more than 8,700 firefighters were still battling flames statewide.
The area remains under
red
flag
warning through
Wednesday, as the dry, gusty, Santa Ana wind conditions continue to cause erratic fire behavior and fast-moving flames. Issued by the National Weather Service, the designation is also intended to warn residents to remain vigilant. Wind-carried embers or negligent behavior can easily ignite new fires across the drought-ridden areas of southern California.
In wealthy Malibu, surfers made their way to a yacht to collect supplies for residents.
Rain is expected next week, which could help cool the smoldering areas and help firefighters control and contain the fire. But, officials said, on fire-damaged hillsides, hard rains can quickly turn into deadly mudslides. In the rainy weeks following the Thomas fire last year,
15 were killed when their homes slid from the mountainsides
.
There are also concerns that citizens trying to access their homes in evacuation areas may put themselves at risk. The Los Angeles county sheriff, Jim McDonnell, said during the press conference that he empathized with residents eager to get back into their homes or assess their damage, but he warned them to trust authorities, who had real reasons for maintaining closures.
The fire "destroyed the deep infrastructure that makes a city a city", he said, emphasizing that the fire burned hotter and faster than any firestorm seen before in the area. Water lines, sewers, roads, and services were all affected. "There are real health hazards from toxic burning smoke," he added, along with the danger of wind carrying flames back toward already burned areas.
The Ventura county fire chief, Mark Lorenzen, echoed the sentiments, saying there was still significant activity in the burn area. "We are not out of the woods yet," he said.
We have some news …
… three years ago, we knew we had to try to make The Guardian sustainable by deepening our relationship with our readers. The revenues from our newspaper had diminished and the technologies that connected us with a global audience had moved advertising money away from news organisations. We knew we needed to find a way to keep our journalism open and accessible to everyone, regardless of where they live or what they can afford.
And so, we have an update for you on some good news. Thanks to all the readers who have supported our independent, investigative journalism through contributions, membership or subscriptions, we are starting to overcome the urgent financial situation we were faced with. Today we have been supported by more than a million readers around the world. Our future is starting to look brighter. But we have to maintain and build on that level of support for every year to come, which means we still need to ask for your help.
Ongoing financial support from our readers means we can continue pursuing difficult stories in the challenging times we are living through, when factual reporting has never been more critical. The Guardian is editorially independent – our journalism is free from commercial bias and not influenced by billionaire owners, politicians or shareholders. This is important because it enables us to challenge the powerful and hold them to account. With your support, we can continue bringing The Guardian's independent journalism to the world.
If everyone who reads our reporting, who likes it, enjoys it, helps to support it, our future would be so much more secure.
The Guardian